Bridging Gaps: British Transport Police's South Wales Team Tackles Islamophobia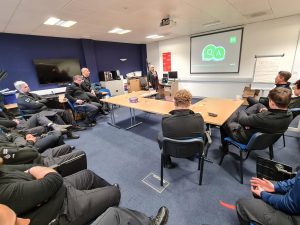 On November 8th, the British Transport Police's South Wales team took a significant step towards fostering understanding and dismantling stereotypes. They hosted a workshop aimed at educating their officers about Islam, the diverse Muslim community, and the pervasive issue of Islamophobia.
The session was not just a lecture; it was an interactive exploration that provided officers with invaluable insights into the Islamic faith, the varied faces of the Muslim community, and the harsh realities of islamophobia. Equipped with this newfound cultural sensitivity, officers can now better identify and address islamophobic behavior while on duty.
The workshop concluded with a flurry of questions, sparking open discussions. Officers and facilitators collaborated to debunk common stereotypes, creating a basic action plan to strengthen the bond between the police force and the communities they serve. This event marks a positive stride towards a more harmonious relationship, demonstrating the power of education in breaking down barriers and building bridges of understanding.