The human library is our flagship event for IAM 2023, in line with our theme #muslimstories.

A Danish idea from the year 2000, a human library is a place where stories are told but through people instead of books. These 'books' are people who share their personal experiences and stories in a respectful and safe environment, typically surrounding topics such as discrimination, social exclusion, or stigma.

For Islamophobia Awareness Month, taking part in or organizing a Human Library is an opportunity to engage in meaningful discussion with both Muslims and NonMuslims, and learn about the different life experiences of others through the lens of Islam and Islamophobia. It is an activity which breaks down barriers in communities and challenges negative attitudes about Islam through the power of storytelling.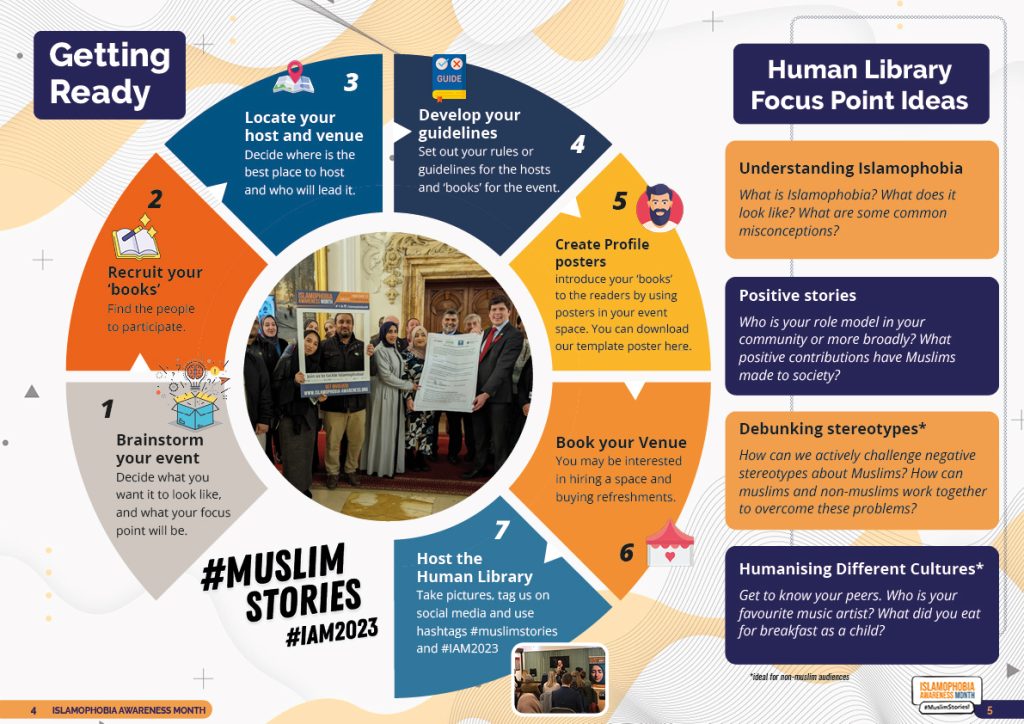 Download IAM2023 Packs
Download and use a pack suitable to your community, school, university, organisation or workplace below.
More ways to get involved
Become a Supporter
Sign up to become an official supporter of the campaign.
Hire Our Exhibition
Showcase the positive Muslim contribution to UK society.
Download Resources
Download these free resources to help with your IAM2023 campaign.
Advertise your event
Be creative, there is no limit to the kind of event you can host. Contact us for further support.
Attend an Event
Find out about what's going on in your area during the course of this month.
Follow us online
Follow us @IslamophobiaAM. Share our content and use our graphics.